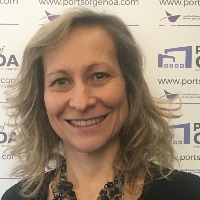 Lucia Tringali
Chief Director of the Financial Resource Planning and Auditing Department
Lucia Cristina Tringali graduated in Economics and Commerce, and holds a Master's degree in International and EU Fiscal Law and Extraordinary Corporate Transactions.

On 1st January 2018 she was appointed Chief Director of Financial Resource Planning and Auditing of the Port Authority of the Western Ligurian Sea.

She is highly qualified in the preparation of financial statements and reports, complex financial techniques in the implementation of investment programmes, performance appraisal and monitoring systems in public works.

She has also been nominated Responsible for Anti-Corruption and Transparency in Public Administration within the company.

Lucia Cristina Tringali is a member of the Board of Directors of Porto Antico SpA on behalf of the Port Authority. She is a qualified First Level Controller (FLC) in EU projects.

From 1990 to 1999 she held various managerial posts in accounting, strategic monitoring, performance appraisal and auditing in both public and private companies.