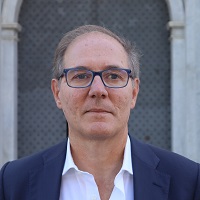 Paolo Emilio Signorini
President of the Western Ligurian Sea Port Authority
Paolo Emilio Signorini was appointed President of the Port Authority of the Western Ligurian Sea on 2 December 2016 and reconfirmed at the helm of the Ports of Genoa, Savona and Vado for a second term in office by Ministerial Decree n.601 on 29 December 2020.
On 16 April 2021, he was nominated State Commissioner for the construction of the New Breakwater of the Port of Genoa.
He was appointed Government Administrator, by Decree-Law n.68 of 16 June 2022, of the Savona Cable Car System – San Giuseppe di Cairo.
Paolo Signorini graduated in Political Science at the University of Florence and later studied at Yale Law School.
He started his career at the Bank of Italy and at the Ministry of Economy and Finance. He was appointed Head of the Economic Planning Department of the Italian Prime Minister's Government Office (2008 – 2013) and Head of the Infrastructure Department at the Ministry of Transport (2013 – 2015).
Paolo Signorini has served on the Board of Directors of leading public infrastructure and transport companies, namely, Italferr and Telt SaS (Turin – Lyon rail line).