The Cervara Abbey in Santa Margherita Ligure provided the stunning backdrop to the fifth edition of the "Liguria 2030" Forum, organised by The European House-Ambrosetti in cooperation with Liguria Region and with the support of the major local authorities, including the Ports of Genoa. Infrastructure investments, port industry, cybersecurity, public health, tourism and green economy: the focal point of the traditional annual conference dedicated to the promotion of Liguria and Italy as an attractive investment destination.
During the round-table talks which addressed The Challenges of the Maritime and Ligurian Port Supply Chain, poised between Innovation, Green Transition and Infrastructure Development, the President of the Western Ligurian Sea Port Authority, Paolo Emilio Signorini, was invited, together with a panel of experts from the global shipping industry, Jens Meier Hamburg Port Authority, Jordi Torrent Port of Barcelona e David Foo Port Authority of Singapore, to illustrate leading international best practices in port development.
With reference to Genoa, President Signorini cited the major role played by the prolific collaboration forged by the national and local authorities and institutions, together with all the private companies involved, in the successful reconstruction of the new San Giorgio Bridge, now often invoked worldwide as a model for best practices for having been able to restore infrastructure in a quick and efficient way. Human capital and the capacity to accelerate the use of innovative technologies were highlighted as the key assets behind the implementation of the Ports of Genoa sizable investment programme and the future successful completion of the wide range of infrastructure works underway scheduled to regenerate the port overall.
The 2021 Report, unveiled during the event, identified the Ligurian ports as a role model worldwide in digitalisation and trial projects promoting the rapid green transition of key port activities. The infrastructure works designed to upgrade intermodal connections and the pilot studies which focus on innovative technologies, such as the deployment of hydrogen in the port industry, can capitalise upon the invaluable professionalism and strategic assets on-site, to boost the seamless development of the industrial supply chain in support of the local economy.
The strategic role played by the Ports of Vado, Savona, Genoa and La Spezia in the local economic development was once again underlined, as the vibrant and highly experienced shipping community at the heart of the Blue Economy consolidates the Liguria region's leadership nationwide: first-place ranking in Italy in terms of number of maritime companies (9.4% of total), premier Italian ship repair and newbuilding industry (15.2 companies every 1000 companies in the manufacturing sector), leading Italian regional container port cluster, top number of pleasure and charter boats registered and second-place ranking in Italy in shipbuilding exports.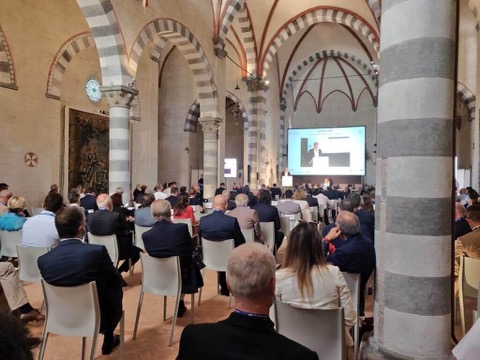 Tag: