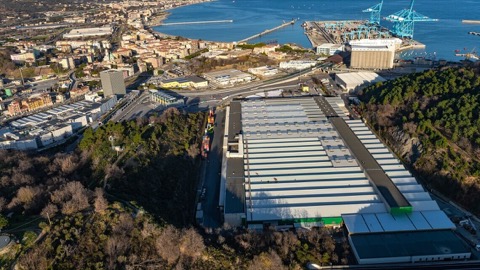 The EasyLog EU Project, co-financed by the Interreg Italy-France Maritime European Regional Development Fund (ERDF), which includes the active participation of the Western Ligurian Sea Port Authority alongside the Chambers of Commerce of the Italian Riviera, launched at the beginning of April a trial period to test a combination of innovative technologies at the Vado Ligure VIO Intermodal Terminal gates.
The new virtual gate system, which can also be implemented in port terminals, is based upon the use of smart glasses which allow gate security officers to read in real-time number plates, ADR codes of hazardous cargo, estimate length of the vehicles, filming and photography, and to store and share the data with the other players of the supply chain.
The trial phase underway at Vado Ligure's intermodal facility has confirmed the wide range of benefits that can be gained from the integration of a smart gate system designed to reduce drastically gate in/gate out transit times, speed up data information transmission and optimise terminal security operations.
One of the driving forces behind the success of VIO Intermodal Terminal is a focus on innovation technology, as can be attested by the installation of the automated rail gate system, implemented across the EU project Vamp Up (CEF 2015 Fund), designed to monitor in real-time rail cars in/out of the Port of Vado Ligure.
Tag: