7 April 2022 - On behalf of the Ports of Genoa, Paolo Piacenza, Secretary General of the Port Authority, took part in the panel discussion featured at the Costa Cruise event organised on board the Costa Firenze, "The Future of Cruise Tourism and Genoa as a Model of Best Practices: Local Community, Ports and Sustainable Innovation".
The session on "Genoa and its port as an Italian model of best practices for sustainable infrastructure and tourism", moderated by the RAI News 24 journalist and presenter Eva Giovannini, provided the Ports of Genoa with the opportunity to illustrate the green port strategies and projects currently underway. Paolo Piacenza focused above all on the Port Authority and Central Government investments in cold ironing, both at the passenger terminals in Genoa and Savona and container terminals and an acceleration of the clean energy transition policy with the installation of solar plants and smart grids for the production and distribution of renewable energy in the ports.
Watch the video of the Secretary-General Paolo Piacenza's speech >
Speakers at the symposium featured the President of the Liguria Region Giovanni Toti, the Mayor of Genoa Marco Bucci and the Director General of Costa Cruises Mario Zanetti. At the conclusion of the event, the "Costa Manifesto for a Value-driven, Sustainable and Inclusive Tourism" was signed by the Ports of Genoa, together with the City of Genoa and the Liguria Region.
Costa Firenze subsequently set sail on its maiden voyage from Genoa and heralded the start of Costa's cruise activities from the Ligurian capital for 2022.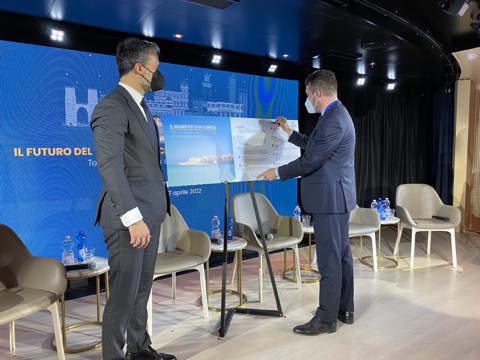 Tag: