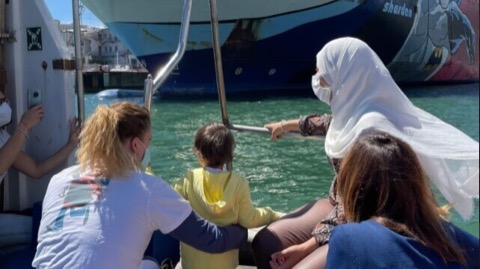 Fun and laughter with the children from the Paediatric Hospitals of Genova Gaslini and San Paolo of Savona for the 2-day event organised by the Ports of Genoa, in cooperation with the Harbour Master, to celebrate the annual European Maritime Day (EMD), an important part of the wave of ocean awareness and activism rising steadily in recent years.
On 20 and 21 May 2021, in parallel with the EMD, the two-day event during which Europe's shipping and port community meet in Brussels to network, discuss and forge action on maritime affairs, the Western Ligurian Sea Port Authority renewed its support to the local community, providing children treated at the paediatric hospitals in Genoa and Savona, together with their families, the opportunity to visit the port facilities of Genoa and Savona from the sea. The mooring and pilot services of the port put their vessels at the disposal of the children for a series of guided boat trips, during which participants had a close-up view of the wide range of activities carried out in the docks and shipyards, whilst enjoying the unique view of the city skyline from the sea. The children also had fun experiencing a selection of hands-on activities, at the helm of the tugboats and as they performed the Coast Guards' patrol vessel inspections.
A fun and stimulating experience for everyone who joined in the celebrations of the European Maritime Day, and which will most certainly be repeated.
The Western Ligurian Sea Port Authority extends a sincere thanks to all those who ensured the success of the two-day local event: San Paolo ASL2, Il Porto dei Piccoli ONLUS, Capitaneria di Porto – Guardia Costiera in addition to Barcaioli delle Grazie S.r.l., Gruppo Antichi Ormeggiatori del Porto di Genova, Corporazione dei Piloti del Porto di Savona, Gruppo Ormeggiatori del Porto di Savona Vado e Imperia and Società Carmelo Noli S.r.l.
Tag: